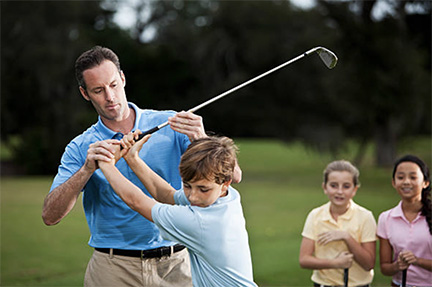 What if my kid has never played golf?
That's exactly why we created our Junior Academy and Summer Camps (check back in the spring for 2023 dates)! The Bandit Golf Club is dedicated to creating the best instruction experience for families and does more than any other course for Junior Golf.
Our objective with our Summer Golf Camps is to teach juniors the fundamentals of golf from the short game to the full swing. Our coaches use games and fun contests throughout each camp to make learning fun! And, students are put into groups based on their age and skill levels to make it fair and fun. Students learn quickly and have fun while they do!

Junior Golf Academy - What is it?
The Bandit Junior Golf Academy in San Antonio is designed for all juniors ages 7-17. This program is perfect for kids aspiring to get better at golf, ultimately reaching a skill level where they can play at a competitive level.
Mission: The focus and goal of our San Antonio junior golf program is to provide a fun and safe learning environment, while offering quality golf instruction to juniors of varying ages and skill levels. We focus on proper technique, etiquette, rules, sportsmanship, honesty, integrity and most importantly FUN. Our programs utilize golf as a learning tool in an energetic environment for developing self-esteem and positive life skills, as well as learning about the traditions of this game we call Golf.
For just $85 per month juniors enjoy:
Clinics on Thursday's 5:30pm - 6:30pm & Saturday's 11:00am - 12:00pm
Range membership
Unlimited golf (after twilight hours)
Tournament entry fees & prizes throughout the year
For more information on our San Antonio junior golf program, please contact us at (830) 609-4665 or use the form on this page.
Our Junior Academy, Summer Camps and Spring Break Camps were designed to create the best golf instruction in the New Braunfels area. If you have a kid, junior or aspiring golfer, our San Antonio golf camps and programs are perfect!
Download our Parental Waiver Form:

parental-waiver-form.pdf