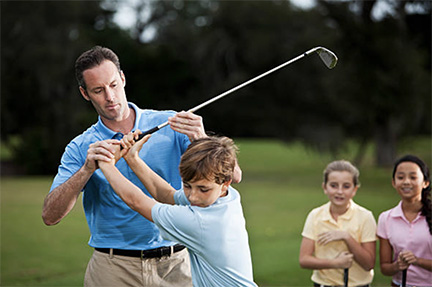 2022 Summer Golf Camps
Summer Golf Camps fill up quick and are a blast at The Bandit. Our objective is to provide a fun experience, while at the same time coaching our campers on the rules, etiquette and swing fundamentals. During our summer camps, we cover all aspects of the game, from putting, chipping, pitching, to the full golf swing. Students will have access to the golf course and enjoy fun prizes and contests. Open to ages 6-17 years old.
$125 per student. Classes are from 8am - 11am and include putting, chipping, pitching, the full swing and time on the golf course practicing what's been taught. Our fun classes includes games and prizes.
June 6-8
June 20 - 22
July 11 - 13
July 25 - 27
What if my kid has never played golf?
That's exactly why we created our Junior Academy and Summer Camps! The Bandit Golf Club is dedicated to creating the best instruction experience for families and does more than any other course for Junior Golf.
Our objective with our Summer Golf Camps is to teach juniors the fundamentals of golf from the short game to the full swing. Our coaches use games and fun contests throughout each camp to make learning fun! And, students are put into groups based on their age and skill levels to make it fair and fun. Students learn quickly and have fun while they do!

Junior Golf Academy - What is it?
The Bandit Junior Golf Academy in San Antonio is designed for all juniors ages 7-17. This program is perfect for kids aspiring to get better at golf, ultimately reaching a skill level where they can play at a competitive level.
Mission: The focus and goal of our San Antonio junior golf program is to provide a fun and safe learning environment, while offering quality golf instruction to juniors of varying ages and skill levels. We focus on proper technique, etiquette, rules, sportsmanship, honesty, integrity and most importantly FUN. Our programs utilize golf as a learning tool in an energetic environment for developing self-esteem and positive life skills, as well as learning about the traditions of this game we call Golf.
For just $85 per month juniors enjoy:
Clinics on Thursday's 5:30pm - 6:30pm & Saturday's 11:00am - 12:00pm
Range membership
Unlimited golf (after twilight hours)
Tournament entry fees & prizes throughout the year
For more information on our San Antonio junior golf program, please contact us at (830) 609-4665 or use the form on this page.
Our Junior Academy, Summer Camps and Spring Break Camps were designed to create the best golf instruction in the New Braunfels area. If you have a kid, junior or aspiring golfer, our San Antonio golf camps and programs are perfect!
Download our Parental Waiver Form:

parental-waiver-form.pdf
MEET YOUR INSTRUCTOR AND GET STARTED TODAY.
For more information on upcoming Summer Camps or Junior Academy, please call our pro shop at 830-609-4665 or simply fill out the form on the TOP RIGHT of this page to be contacted by our Director of Better Golf, KC Lim.
KC Lim, Director of Better Golf - The Bandit Golf Club
San Antonio native, KC Lim first discovered his passion for golf while playing in high school at Churchill and Reagan. While KC was on the team, they went to state each year…and won the tournament each year. After graduating, he went on to play college golf at St. Mary's University where he won 7 college tournaments, including 4 tournaments during his last semester, including their conference tournament.
In 2007, KC decided to chase his dream of turning pro. He played on a number of different tours. From 2007 to 2011, KC played on the Adam's Pro Tour, in 2012 The National Pro Tour and in 2013 the PGA Tour Latin America. 2014 was KC's breakout year, where he chased the PGA Tour by doing Monday qualifying. He and three other golfers were documented on YouTube in a series called "TourQuest". Now, with some pro experience under his belt, KC went on to qualify for the Web.com Tour in 2015 (now called the Korn Ferry Tour), PGA Tour China in 2016 and rounded out his professional career going back to Qualifying School in 2017, where he qualified for the PGA Tour Latin America again.
KC joined the Foresight Golf family in 2016 as an Assistant Golf Professional at The Republic Golf Club in San Antonio, where he later became the Director of Better Golf. Joining The Bandit Golf Club in 2020, KC introduces juniors and adults to this great game through our Learn to Play classes, while also helping our passionate golfers improve their game with private lessons. Stop by the pro shop or drop KC a message to learn more about all the programs he leads as The Bandit Golf Club's Director of Better Golf.
All golf lessons and classes take place at The Bandit Golf Club in San Antonio with our professional instructors.